UP COMING CONFERENCES
Visit each site to find out more!
LORIEN'S 60th "UFO BIRTHDAY PARTY" And "Catio" Fundraiser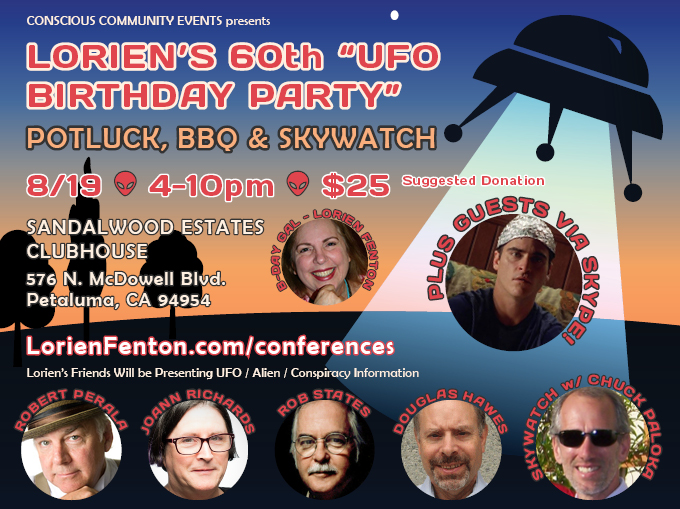 HELLO EVERYONE!!
I am looking forward to my Birthday Party (and "Catio" Fund Raiser) coming up on August 19th. It will be held in Petaluma, California.
WHAT: Lorien 60th Birthday and "Catio" Fundraiser
DATE: August 19th
TIME: 4pm to 10pm (later probably)
ADDRESS: 576 N. McDowell, Petaluma, CA 94954
SEE BELOW TO: PURCHASE TICKETS – SIGN UP FOR POTLUCK DISH
So we will all have a good time, and to be able to eat what you like, I'm asking everyone to bring an appetizer, or a side dish, or a salad, or your favorite "potluck dish" to the party.
PLEASE SIGN UP HERE TO LET US KNOW WHAT YOU ARE BRINGING:
www.SignUpGenius.com/go/30E0E4BA9AA29A6FA7-lorien
(Ladies who can "cook" or know a great deli where you purchase your party dish – please leave the Ice Cream, Appetizers, Coffee Cream items for the "guys" to bring.)
I AM PROVIDING:
1) Costco Polish Hot Dogs (and buns)
2) Veggie Dogs (healthy buns)
3) Turkey Dogs (healthy buns)
4) Ketchup, Mustard, Relish
5) Birthday Cake or Cupcakes (you can sign up to bring Ice Cream)
6) plates, utensils, napkins
7) Coffee and Sweeteners – some soda – water (BRING YOUR FAVORITE BEVERAGE)
If you would like to bring your own grill item to cook, no problem, but you will have to wait until the assortment of hot dogs are prepared.
PLEASE BRING A SERVING SPOON FOR YOUR DISH.
PLEASE BRING SALAD DRESSING FOR YOUR SALAD (Green or otherwise).
SCHEDULE:
4:00pm – Party starts – arrive to mingle
4:30pm – Food and Music
5:30pm – Skyping in Lorien's Friends
7:00pm – Presentations by local Friends: Perala – Richards – Hawes – States
8:15pm – Cake and Ice Cream: Lorien Speaks
8:45pm – Skywatch: Chuck Poloka will discuss his contact experiences
PLEASE – NO GIFTS! I would treasure a card with a note. If you really want to give me a gift, add some money to the card. I am heading into a battle that needs cash as a form of "love energy" given to it freely.
Please buy your ticket ASAP – so the party food can be purchased (we will know what you are eating!).
For those of you who can not attend, but want to support me, my work, and the upcoming "Catio Wars", please use this donate button. THANK YOU FOR YOUR GENEROSITY!
(Donation will appear on your Credit Card or in your PayPal account as "Dance Outre" – Lorien's Nonprofit.)